BAD TASTE : AN ILLUSTRATION EXHIBITION KEY VISUAL

Bad Taste: An Illustration Exhibition is a group exhibition organised by the illustration collective I'm part of, Meet The Kawan. The exhibition aims to promote the contemporary illustration scene in Malaysia, featuring 11 local artists and 14 international artists from all around the world. I was in charge of creating the key visual for the exhibition.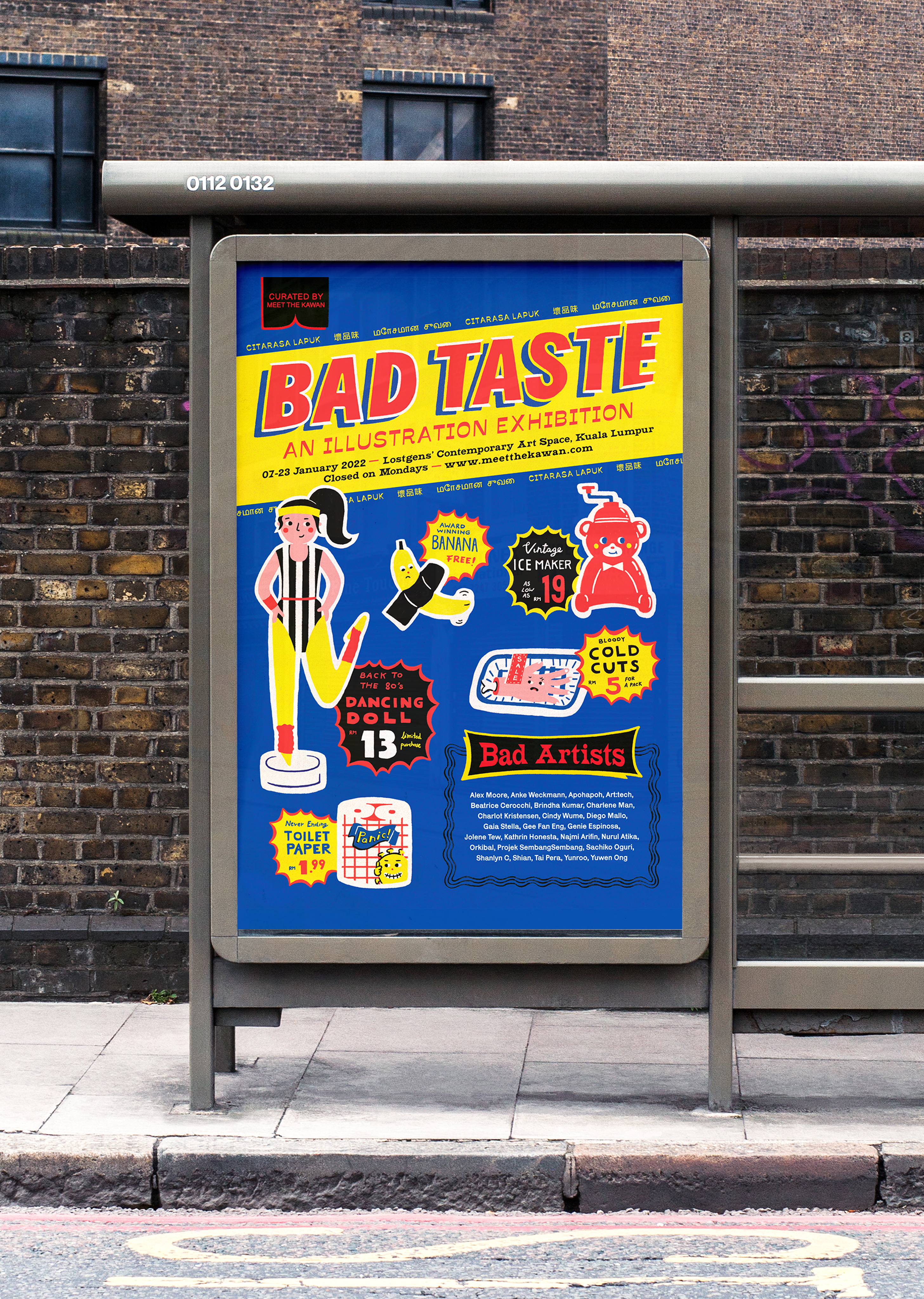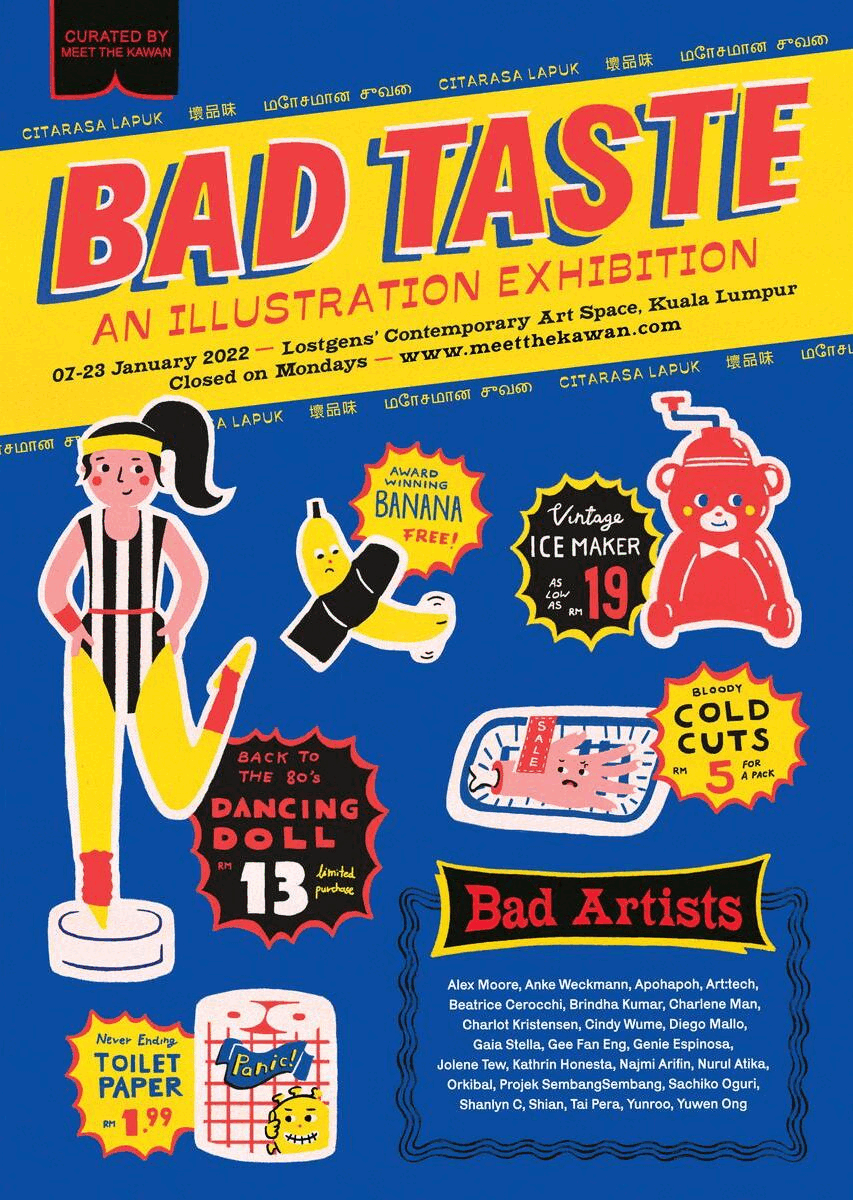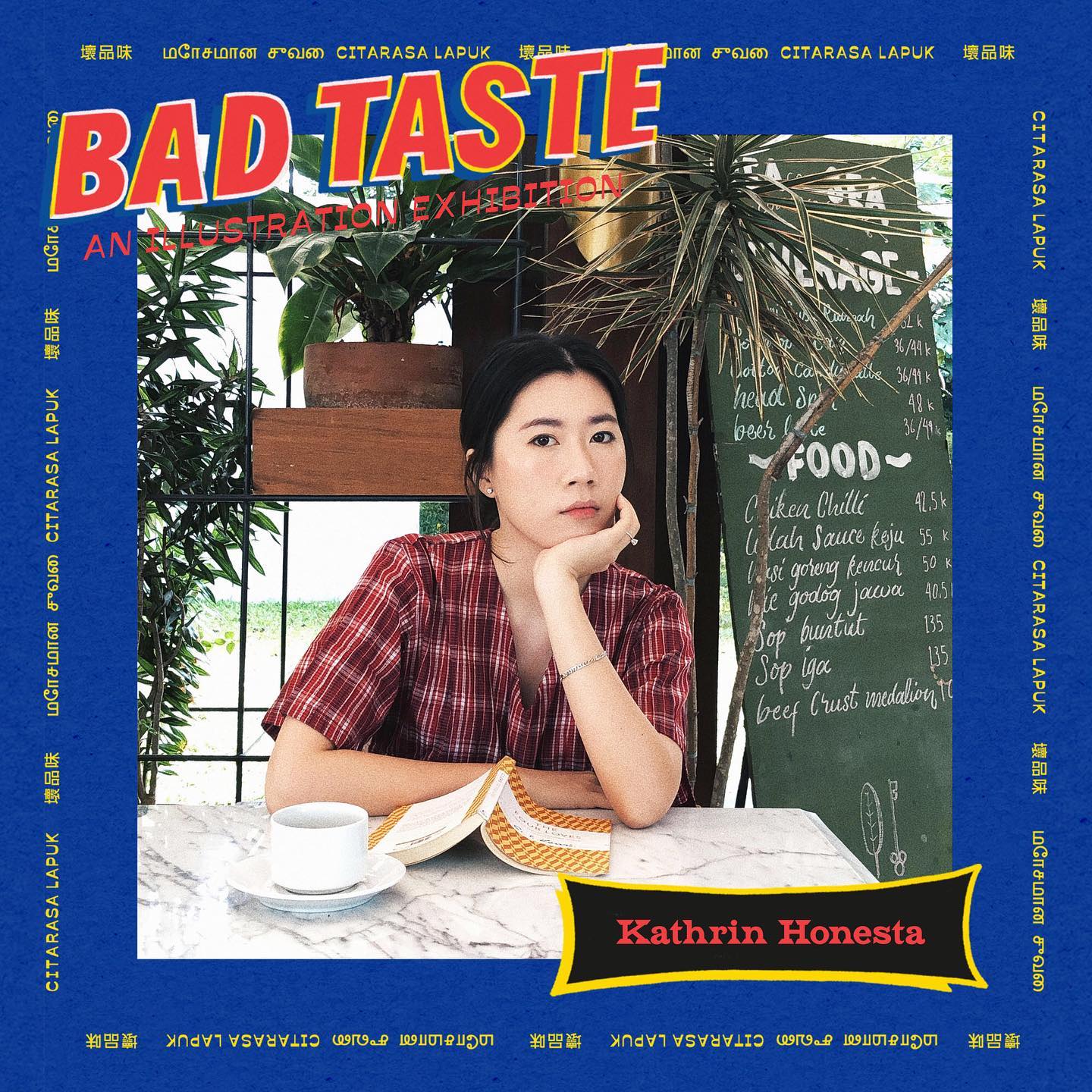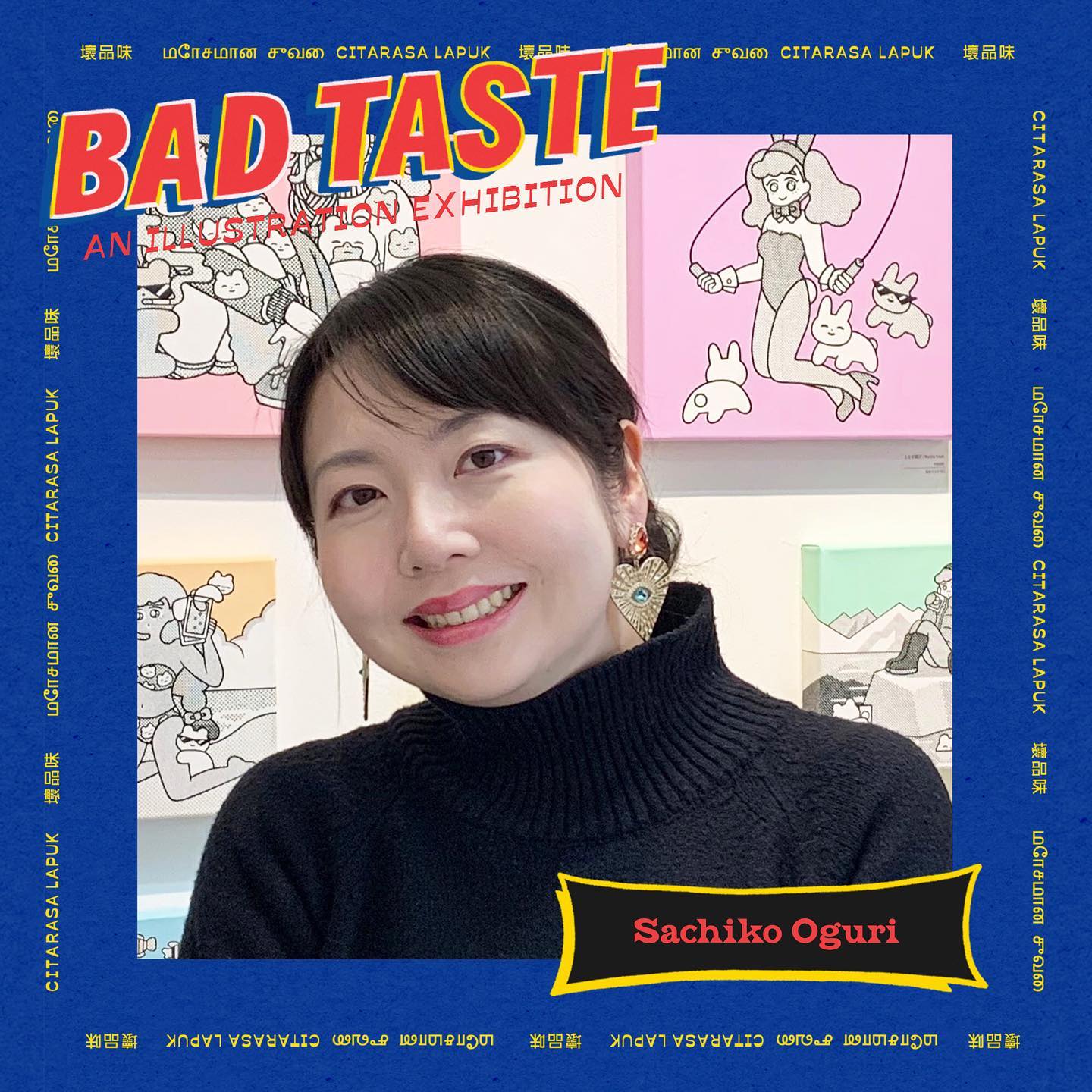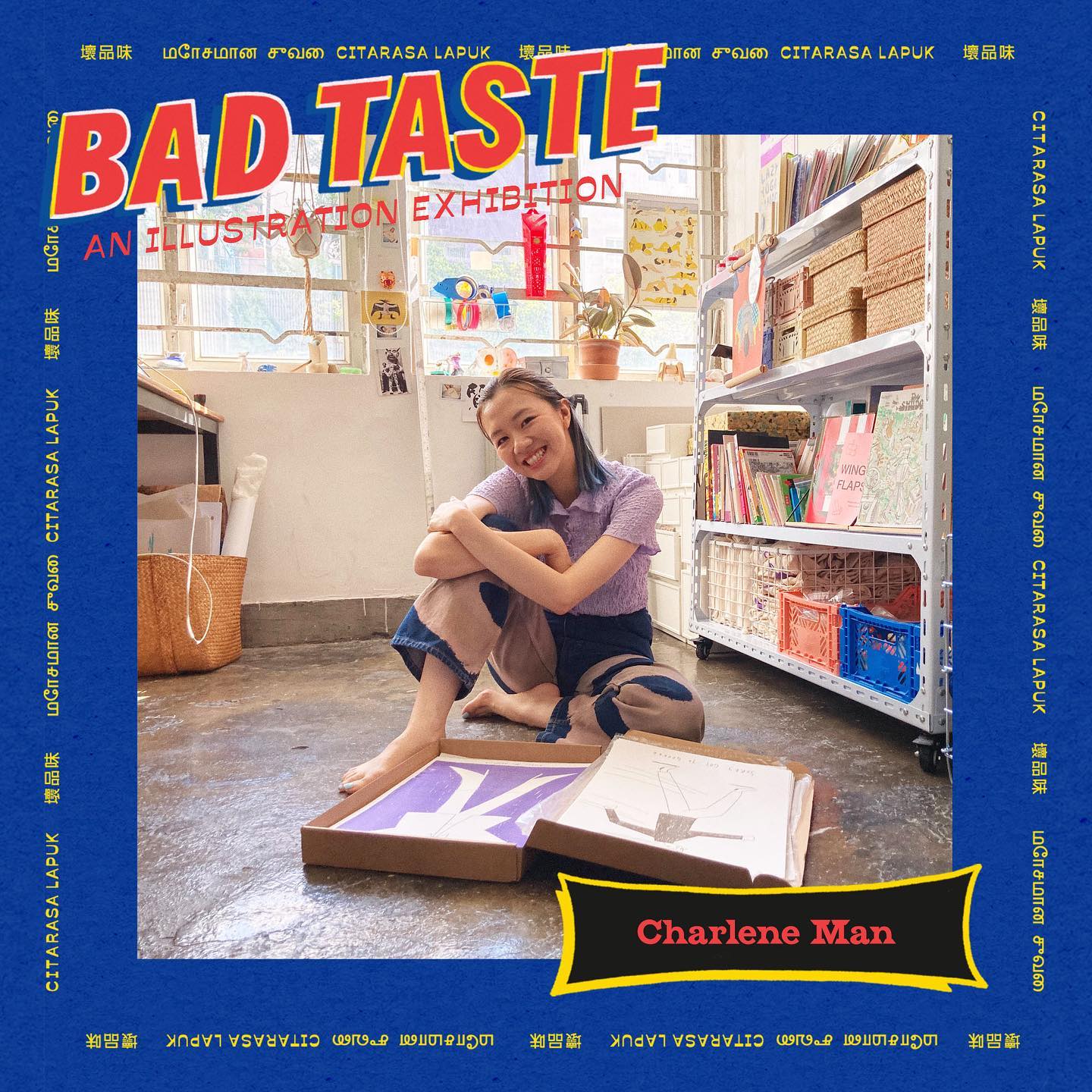 Exhibition
BAD TASTE: AN ILLUSTRATION EXHIBITION

Organiser
MEET THE KAWAN

Photographer & Videographer
TITUS TJT

Year
2021

As a place where people from different walks of life come together to buy food and necessities, a local mini-mart was the perfect inspiration for exploring the idea of bad taste. The key visual for the poster is inspired by the chaotic and frenzied nature of exploring a mini-mart, with items featured in a seemingly random and haphazard way to create a feeling of discovery and exploration.
One of the standout items is the banana, famously sold for $120,000, which nods to the absurdity of the contemporary art market. Another item, toilet paper with the "Panic" label, references the toilet paper frenzy of the COVID-19 pandemic in 2020. Other items are inspired by the artworks of the three curators, each with its own unique story and cultural significance.
To reflect Malaysia's multi-diverse culture, I included the Chinese, Malay, and Tamil words for "bad taste" in the poster. This mix of languages is commonly found in mini-marts, as they cater to people of different races who use products with packaging in different languages.
By creating a vibrant and eclectic space that reflects the diverse cultural landscape of Malaysia, I hope to encourage viewers to embrace the unexpected and celebrate the many different ways we can experience the world around us.
---
PRESS

✦
Young illustrators, graphic designers continue surge into the art mainstream
, The Star | 2022
✦
#RIUHVisits: Bad Taste, An Illustration Exhibition [REVIEW]
, Riuh | 2022
︎︎︎ Previous Project Next Project ︎︎︎